Top Tennis Tips
The most common concerns we see in tennis involve the wrist, elbow, knees and lower back.
The majority of these tennis injuries are due to over use or over load, and they can be easily improved or avoided with some early intervention. Other typical but less common injuries we see are the result of trauma. For example a knee injury from a fall, or a groin injury from an over step and slide, or rushing the net at top speed with cold muscles. Guidance from your coach or physiotherapist on technique and training patterns can go a long way in keeping you active on the court.
Here's our list of top tennis tips for this season:
#1 Get loose and limber up
Tennis requires fast bursts of activity followed by periods of standing still. Warming up and staying warm is absolutely key to injury prevention. Many a victim have entered our clinic having raced for a drop shot at the net and pulled their calf muscle in the first 10 minutes of a game. Sound familiar? Warming up correctly should include increasing your heart rate, lifting blood flow to muscles and taking your joints through their full range of movement.
See below for an easy 5-10 minute tennis warm up example.
#2 Keep hydrated and fuelled
Hydration is often overlooked in sport. Poor hydration leads to lack of energy and fatigue and lowers concentration. Aim to drink 500-600 mls before you play a match and aim to drink 100-150 mls at the change of ends between games. Alter this according to weather and sweat levels.
Keep easily digestible high energy snacks in your tennis bag. You should try to eat every hour during play depending on the intensity of your game – bananas, fruit bread and cereal bars are all high in carbohydrate and low in fat.
#3 Footwear matters
Correct foot wear choice will be key to preventing lower limb injuries. Your shoes need to provide effective stability from the ground upward as you set your body to play the ball and take on frequent directional changes. Ask your sport shop to direct you towards the tennis, squash or netball section and consider the surface you commonly play on when taking advice – hard court soles will be different to artificial grass or clay.
Inappropriate footwear, with minimal lateral support or structure, can leave you vulnerable to ankle sprains. In addition the stress of maintaining good foot position and lower limb stability may be transferred to the knees and hips. More importantly it affects how well you play the ball!
#4 Avoid tennis elbow
Tennis elbow presents as pain on the outside of the elbow that typically extends down the forearm, sometimes to the wrist. It is a result of inflammation of the attachment of the tendons at the bone on the elbow. In tennis this can be caused by a loose grip on the racket handle, a grip that is too small, playing with wet heavy balls, or a technique that involves excessive wrist movement.
Taping, massage and specific exercises can all help improve the symptoms of tennis elbow, and assessment of your play technique and strength work can prevent the problem from reoccurring. With any tendon issue the sooner it can be assessed and seen the quicker it will recover.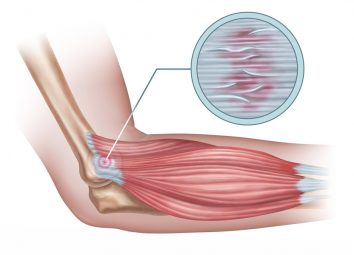 #5 Respond to acute injury
Accidents are sometimes unavoidable, even the best trained players will get injured on court. So what do you do in the heat of the moment and an important match point:
Establish if you can play on without causing more pain. Take a few minutes to rest, then carefully dummy some shots or go for a short walk or jog at the back of the court. Only play on if you feel confident you can.
 If you choose to discontinue playing adopt the RICED strategy:

Rest: to prevent further damage avoid moving the injured area as much as possible
Ice: for 20 mins every few hours for the first 48hours
Compression: Bandage between ice treatments to limit swelling
Elevate: Keep the injured area above the heart where possible
Diagnosis: If the pain or swelling hasn't resolved significantly seek professional help
If you are concerned about any pains or niggles this tennis season, book in with one of our physiotherapists here at Ponsonby Physio.
---
Example of an easy 5-10 minute tennis warm up:
Run 3 laps of the court. At each end change to side stepping along base line facing inward.
Run at 70% full speed from baseline to net. Jog backwards to the baseline. Repeat 3 times.
Circle arms 10 times in one direction and 10 times in the opposite.
Reach hands to the sky then roll down to aim to touch your toes letting your spine roll down from head to toe.
Lunge walk forwards completing 2 widths of the court.
Side step into a squat completing 2 widths of the court.
Where avoidable, never go straight into match play. Hit with a partner in the service boxes for 2-3 minutes before moving to the back of the court to cover the whole court and complete a series of ground strokes, volleys, smashes and serves before you start your game.