Physio Bike Fit and Cycling Assessment

A correctly set-up bike coupled with expert advice on cycling technique, can help prevent imbalances and injuries.
---
Our expert physiotherapists & cyclists are ideally placed to set you up for an improved ride.
Cycling is clearly a repetitive motion with most people sitting around a 90+ cadence or RPM (revolutions per minute). This in itself can lead to problems if you have a bike that is not correctly set up for you. In addition, incorrect technique or cycling accidents may also result in the development of injuries and imbalances impacting your ability to cycle pain free.
What to expect at your session
In our clinic gym area we set your bike up on our stationary trainer and observe you cycling at various intensities. From here we take a short video of your cycling position and make measurements based around lower back, hip, knee and ankle position as well as looking at how your upper body positions itself when cycling.
Your physiotherapist will complete a muscle balance assessment to identify any concerns or improvement areas. Then they will review your overall posture on the bike and pedalling technique. You will gain specific advice on how and when to use your gears to get more out of your cycling. Effective gear use can minimise cramping, or simply give you a bit more energy to get to the end of your ride.
Why book a physio bike fitting session?
As physiotherapists we have in-depth knowledge of how the musculoskeletal system functions. We can determine potential drivers of imbalances through observation and assessment of your movement and function on and off the bike. As part of your session we will also guide you on helpful exercises to address any imbalances identified.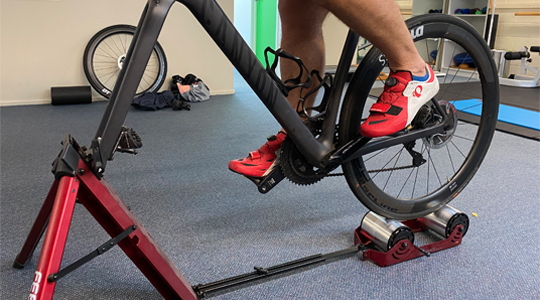 Who is this service for?
If you are new to cycling this is a terrific opportunity to get your bicycle set-up correctly for your body and technique. It is also an ideal session for intermediate to advanced cyclists wanting to fine-tune and improve further with expert advice. This session is also appropriate if you have an injury or niggle and are seeking a recovery plan.
Book your physio bike fit & cycling assessment now.
Initial sessions are for 1 hour
Private Fee $120.00
ACC Surcharge $60.00
Contact the clinic at info@ponsonbyphysio.co.nz, or call us on 09 378 6890 to arrange a time.
Our highly experienced physiotherapist and ex-national cyclist Toni Strong will take your session.